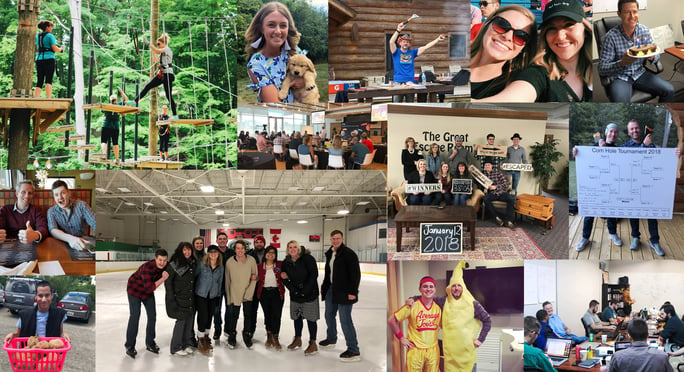 ITS Partners is a 30 year old firm that has a personality of a 5 year old technology startup.
Our diverse team, 80+ strong, is united by a single mission: to help IT break free of the mundane. Whether in our Grand Rapids HQ, onsite with customers, or remote from a location of your choosing, we work hard to help make core IT Management functions productive for businesses every single day.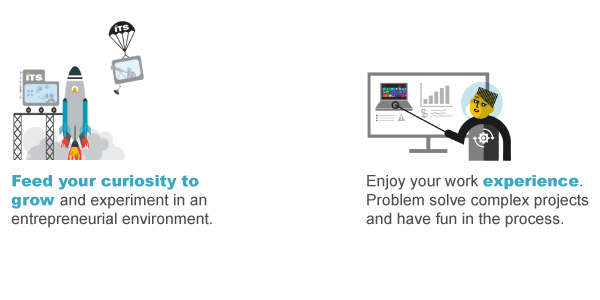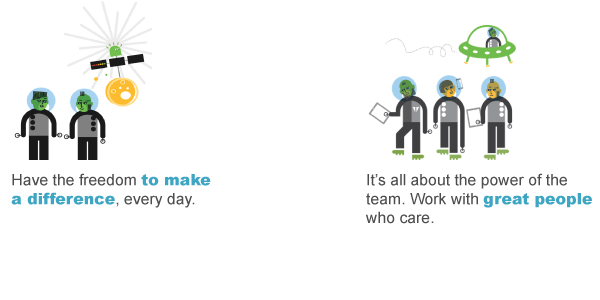 Values
Driven to Be a Better Version of Me
We know that lasting change begins when our curiosity is activated, and we are given opportunities to discover new possibilities. We openly encourage each other in our personal ambitions for we know the hard work we put in to better ourselves only makes us better teammates. We each have a part to play and take ownership to expand our knowledge and grow our experiences to better serve our teams and customers.
Value Trust First
Trust is necessary to ensure we are able to collaborate and communicate seamlessly as a team to provide exceptional service to our customers. We know that strong teams and customer relationships are built on a foundation of trust. This means we're not afraid to take action in our roles or of open and honest communication that pushes us to improve. We know that greater success is achieved only when we both support and challenge.
Work and Life are Equal
We care more about quality of life, not the quantity of work hours. When you are passionate about the work you do, you shouldn't have to be micro-managed about hours clocked. Productivity is what matters to us. If you are more productive in a coffee shop, the comfort of your home office, early in the morning or late at night, we support your freedom to choose where and when you do your best work. At ITS Partners, we understand life still happens while we work.
We love connecting with talented individuals. If you are interested in a role at ITS Partners and do not see an open position in your area of expertise, please send your cover letter and resume to our People Services department at peopleservices@itsdelivers.com
**This role will be located "in territory" – in the Texas/Oklahoma, Louisiana, Arkansas (TOLA).**
The Regional Sales position is a revenue producing, field territory role responsible for positioning specialized products and service offerings in Cybersecurity and IT Asset Management. Day-to-day activities will include lead identification and nurturing through vendor channels and directly to customers. Time will be mostly spent on developing new pipeline, but in some cases will include longer term, account management. The Regional Territory Rep would report to the Vice President of Sales on a weekly basis to discuss details surrounding customers, leads, opportunities, forecasting, and quotas.
Role Responsibilities
Establish and grow assigned territory with ServiceNow Security Operations, IT Asset Management, and Symantec Security
Understand customer's goals and requirements to position a whole solution
Identify opportunities, establish ITS team and manage through closure
Support strategic accounts - cross selling and ongoing engagement
Excellent presentation and negotiation skills – ability to engage with appropriate buyers and influencers
Demonstrated forecasting and CRM hygiene
Desired Skills and Experience
5-10 years sales experience in tech or security industry
Experience in Large Enterprise Services and Software sales
Established relationships and network to build a "book of business" in territory
Ability to work cross-functionally, i.e.-teaming with Sales Engineers, Architects and Consultants
Proven ability to work independently to prioritize efforts
High quotient of "figure it out" factor
Up to 50% travel
Demonstrated ability to influence and grow our channel partners
Demonstrate an operational mindset
This role has uncapped compensation, full Benefits Available-Medical/Dental/Vision/401K, Mileage, Phone stipend, Expenses, with exceptional earning opportunity! Great company culture!
To apply, applicants must meet at least the minimum of these requirements.
ITS Partners, LLC is an Equal Opportunity Employer