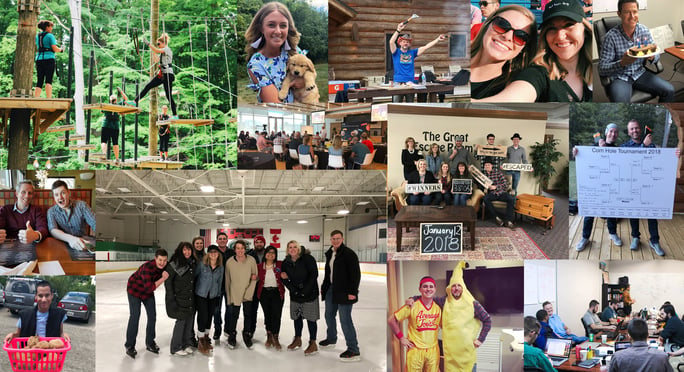 ITS Partners is a 30 year old firm that has a personality of a 5 year old technology startup.
Our diverse team, 80+ strong, is united by a single mission: to help IT break free of the mundane. Whether in our Grand Rapids HQ, onsite with customers, or remote from a location of your choosing, we work hard to help make core IT Management functions productive for businesses every single day.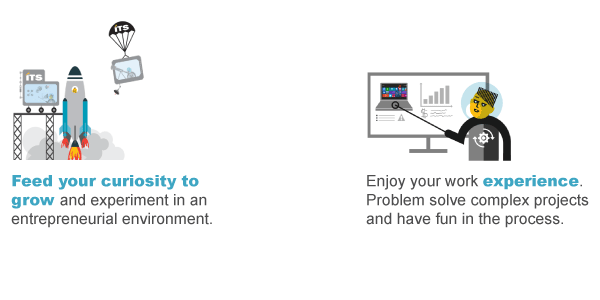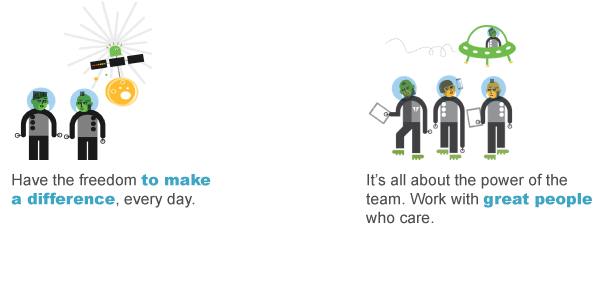 Values
Driven to Be a Better Version of Me
We know that lasting change begins when our curiosity is activated, and we are given opportunities to discover new possibilities. We openly encourage each other in our personal ambitions for we know the hard work we put in to better ourselves only makes us better teammates. We each have a part to play and take ownership to expand our knowledge and grow our experiences to better serve our teams and customers.
Value Trust First
Trust is necessary to ensure we are able to collaborate and communicate seamlessly as a team to provide exceptional service to our customers. We know that strong teams and customer relationships are built on a foundation of trust. This means we're not afraid to take action in our roles or of open and honest communication that pushes us to improve. We know that greater success is achieved only when we both support and challenge.
Work and Life are Equal
We care more about quality of life, not the quantity of work hours. When you are passionate about the work you do, you shouldn't have to be micro-managed about hours clocked. Productivity is what matters to us. If you are more productive in a coffee shop, the comfort of your home office, early in the morning or late at night, we support your freedom to choose where and when you do your best work. At ITS Partners, we understand life still happens while we work.
We love connecting with talented individuals. If you are interested in a role at ITS Partners and do not see an open position in your area of expertise, please send your cover letter and resume to our People Services department at peopleservices@itsdelivers.com
Chicago area
We are seeking an experienced mid-level engineer with a passion for automating all the things with Javascript in support of building great asset, service management and security operations platforms. This is a travel-first consultative role, and the right candidate will be out in the field immediately - helping our clients mature their business processes with the best platform out there.
You will focus on helping our clients achieve a state of Productive IT.
Job Expectations
Providing advisory services in your domain of expertise
Solutions consulting, install, configuration, and support
Development of tools, methods and processes
Maintaining readiness for short-notice technical sales support including demos, proof of concept engagements, Q&A research, etc
Supporting Regional Managers, Account Executives, Architects and other colleagues to delight our clients (product presentations, sales calls, research)
Tracking, following up, meeting with, and developing existing accounts for additional revenue
Expecting and embracing our travel-ready culture, including the possibility of up to 90% travel
Core Competencies
Strong organizational skills
Ability to work independently in short sprints
Modern business acumen
Engaging personality that works across generational lines
JavaScript, Web Services (REST, SOAP), workflow automation, AngularJS, Bootstrap
Experience
2-4 years of experience planning, implementing or supporting ServiceNow
Experience utilizing industry standard project management methodologies including Agile, SCRUM, Waterfall, etc
Experience with any of the following ServiceNow applications is a bonus: Asset Management, GRC, Service Portal, Service Catalog, Incident, Problem and Change, PPM/ITBM
Referenceable interpersonal skills with both technical and non-technical team members
ServiceNow Certified System Administrator, Implementation Specialist or Technical Consultant
ITS Partners is an Equal Opportunity Employer
Technical Consultant

Apply Today
Grand Rapids area
We love our engineers and what they bring to the mix. We work hard to solve our customers problems and try to have fun in the process. In our 10 years of IT Management consulting and managed services for 1000+ IT organizations across 20+ industries, we've tackled the most challenging initiatives.
Do you enjoy keeping good data in, while your peers in threat prevention keep bad stuff out? As the DLP Security Consultant you would join a collaborative team in providing advisory, problem solving, and communication skills to help our clients mature their information protection strategy.
The DLP Security Consultant is a role for someone with a wealth of experience with implementing Symantec's DLP platform and enjoys meeting new people and traveling to new places. The central responsibilities will be to provide advisory services in your domain of expertise and ensure customer success. This position will focus on supporting our existing Regional Managers and Architects in product presentations, sales calls, and research, as well as work directly with clients on short and long term projects.
We invest in you throughout your career at ITS, by focusing on polishing current skills, encouraging opportunities to learn, and cultivating a culture of trust and balance.
This is a full-time, travel-first consultative role. ITS offers a competitive benefits package, 401K, vacation and cool engagement events!
About You:
Analyzing and brainstorming solutions to problems is exciting
You embrace a travel-ready lifestyle, with the possibility of up to 90% travel
Team work makes the dream work – but you can work independently in short sprints when needed
Relationship building – you enjoy meeting new people and can communicate to all levels of the business
Proven organizational and time management skills
Authentic client facing and customer service skills
You can speak high-level tech lingo and break it down to understandable terms for all levels in the business
Servant leader-minded – willing to pitch in and help out
You like to have fun at work and love being part of an energetic and driven team
What You'll Do:
Provide advisory services in your domain of expertise
Solutions consulting, implementation, configuration, and support
Develop tools, methods and processes
Participate in short-notice technical sales support calls including demos, proof of concept engagements, Q&A and research
Support Regional Managers, Architects, and other team members nurture excellent customer relationships by leading product presentations, sales calls, and research projects
Track, follow up, meet, and develop existing accounts for additional revenue
Experience
2+ years in Information Security/Cyber Security, including incident response and remediation, network administration
Project management methodologies including Agile, SCRUM, Waterfall, etc.
Symantec Data Loss Prevention -DLP – Implementation, Administration
Knowledge of compliance and regulation standards, such as PCI and HIPAA
Bonus
Experience in Bluecoat Proxy, CASB, Symantec Endpoint Protection, and encryption
ITS Partners, LLC is an Equal Opportunity Employer
DLP Security Consultant

Apply Today