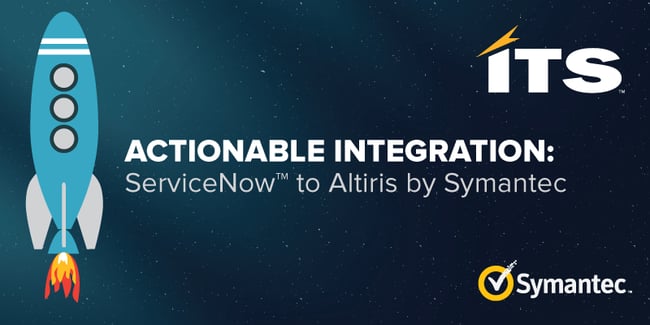 Actionable Integration: Altiris is designed to help alleviate the challenge of real-time, automated request fulfillment.
The current online consumer shopping experience sets an expectation of immediate delivery upon request. However, most IT organization lack the automation and integration to meet these expectations; instead, they rely upon manual action to fulfill the employee's request.
AI: Altiris offers a solution that solves this issue with an actionable integration between ServiceNow and Altiris. This integration allows for the import of Altiris Configuration Item data into ServiceNow as well as the automation of Altiris tasks called from ServiceNow. The integration is compatible with Altiris.
*Subscription includes basic implementation and support.
Key Features
Automate Altiris Tasks with Actionable Integration
Automatically install software upon a Service Catalog request
Trigger computer reboots from an Incident
Force client configuration update from a Computer record
Software installations initiated on a Computer from an Incident
Import Altiris Computer Configuration Items (CIs) to the ServiceNow CMDB in the following classes:
Computer
Disk
Network Adapter
Software
Execute Altiris tasks on managed computers imported from Altiris:
from a Service Catalog Item
from a link within an Incident record
Learn more at the ServiceNow store.